The Jitzak Luria Academie
* Thora Research
* Hebrew Bible Software
* Music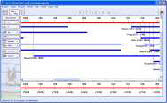 © Copyright Jitzak Luria Academie, Rotterdam, Niederlande/Netherlands, 2007, TAML

About the Jitzak Luria Academie and its Founder, the Well Known Thora Scholar Jakob ben Luria (1920-2005). Life and work.
The Jitzak Luria Academie and its Founder
J.L.A. Thenach Search- and Research Program 5
Software for Windows98/Me/2000/XP/Vista/W7/8/10

Professional Bible Software with English and German screen texts and manuals. With the complete Thenach (the "Old Testament") in Hebrew with vowels in four versions: Stuttgartensia, Westminster, Aleppo and standard text. The program includes a grammar of all Thenach words (English and German), translations parallel to the Hebrew Text: King James (English), Elberfelder (German) and Septua Ginta (Jewish Greek translation), a great number of search functions for text and numerical values horizontal and vertical (= Bible code, ELS-code), cabalistic search functions and a biblical time line.
Thora und Wissenschaft - PDF-file, German, 7,6 Mb

The two chapters of Creation of the Thora (Genesis) have nothing to do with the usual literal interpretation. Understanding the symbolic, it will be evident that the chapters of Creation do not conflict with the modern physics, cosmology, philosophy and metaphysics.
Thora und Computer - PDF-file, German, 77 pages, 4,1 Mb

About the book of Genesis and its many hidden secrecies. A summary of some of Jakob ben Luria's Bible explanations, supported with computer-research (no knowledge of computers required). The program used can be downloaded free (also English screen texts, manual - see below).
Das große Palindrom - PDF-file, German 2,7 Mb
Decoding of the famous square palindrome and a dissertation about the birth of christianity and messianity.
The book "Thora und Wissenschaft" (Jakob ben Luria) also contains a discourse on music in the light of the Thora. In order to illustrate some of the discussed principles Jakob ben Luria composed two pieces of music. You can listen to these compositions and to the "fünfzehn kurze Stücke für Klavier", composed according to the same principles by his longstanding co-worker. Musicians can obtain scores by E-Mail.
* (in some webbrowsers double-click the file "thenachpr.exe" after downloading. This file is mostly displayed in a window by the web browser or you can find it with the Windows-explorer in the download folder)